German Version Unavailable
Max Resource Reports High-Grade Copper & Silver Assays from AM-7, at the CESAR Project
Vancouver B.C., June 22, 2023 – MAX RESOURCE CORP. ("Max" or the "Company") (TSX.V: MAX; OTC: MXROF; Frankfurt: M1D2) is pleased to report assay results from channel samples collected at the recently discovered AM-7 Target. AM-7 lies within the 20-km-long AM District, located at the northern end of Max's wholly owned CESAR Copper Silver Project in northeastern Colombia (refer to Figures 1 to 5).
The copper-silver mineralization is hosted in fine grained sandstone and mudstones with chalcocite as the primary copper bearing mineral. Exploration crews working the AM-7 Target have identified multiple horizons of high-grade stratiform mineralization.
Highlights
Channel samples were collected across mineralized outcrops with intervals ranging from 0.3 to 3.8m (refer to Table 1):
9 returned values of 4.0% Copper and above
7 returned values greater than 2.0% Copper
18 returned values of 1.0% Copper and above
24 returned values of 10 g/t Silver and above
Multiple channel samples returned high-grades, encompassing five historic open cut copper workings:
18.3% Copper and 2 g/t Silver over 1.5m (419093)
6.0% Copper and 48 g/t Silver over 1.0m (876707)
5.9% Copper and 56 g/t Silver over 1.5m (876734)
5.0% Copper and 138 g/t Silver over 1.0m (876711)
4.0% Copper and 48 g/t Silver over 1.0m (878707)
Further channel assays are pending.
"The Cesar Basin continues to reward the perseverance of our skilled technical team as demonstrated by the discovery of AM-7 and the impressive assay results," stated Max CEO Brett Matich.
"The high-grade copper-silver mineralization has been identified in multiple, stacked horizons across an impressive strike length of more than 2-km, and remains open in all directions," he continued.
"Since the commencement of the 2023 exploration campaign, the Max field team has identified 21 copper-silver targets across three separate districts: AM, Conejo and URU. All three districts are located along a 90-km belt in the CESAR Basin (refer to Figure 1). Max continues to intensify exploration in the Cesar Basin with the objective of delineating a new world class copper-silver belt," he concluded.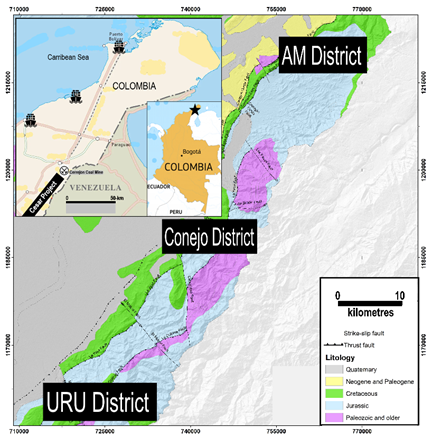 Figure 1. CESAR Project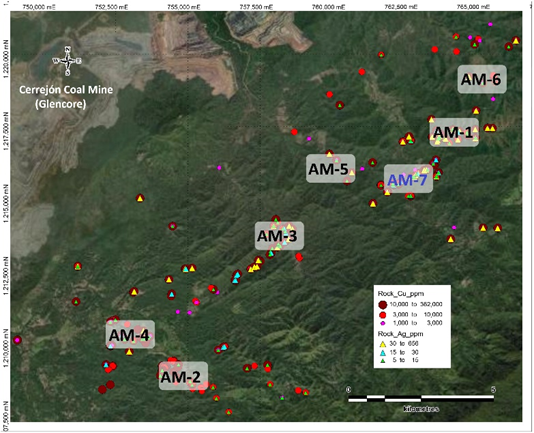 Figure 2. AM District copper silver targets, AM-1 to 7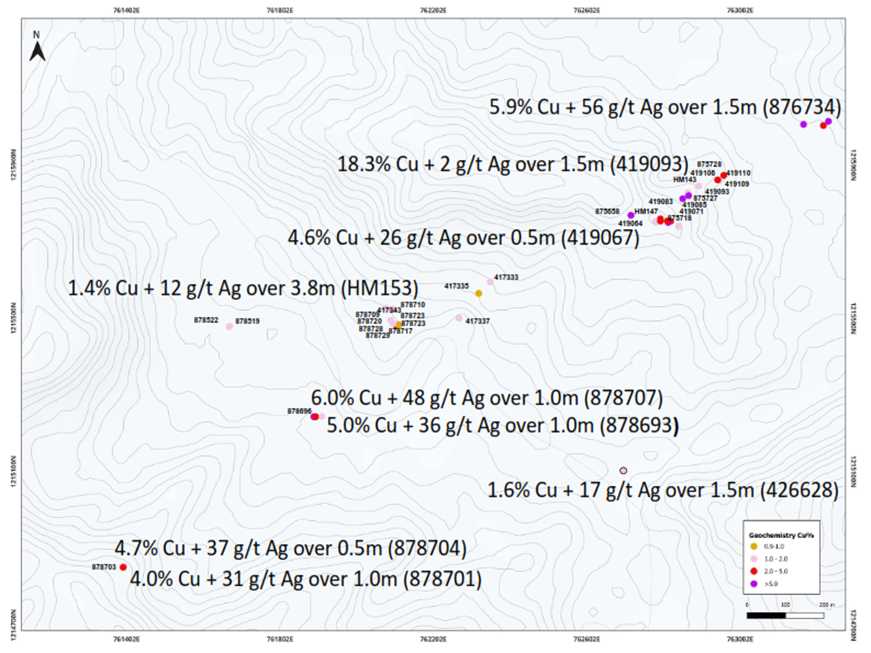 Figure 3. Channel sample locations for AM-7 (refer to Table 1)
AM-7 Target
The AM-7 Target represents classic stratiform copper-silver mineralization hosted in interbedded mudstone, siltstone, and fine grained cross bedded red-bed sandstone of the La Quinta Formation. The mineralized horizon is a tabular body that ranges from 0.3m to 3.8m wide and extends for over 2-km along strike. Bedding attitudes are consistent, striking 240°‐260° and dipping 25°‐35°
Chalcocite is the main copper‐bearing mineral and is concentrated along stratigraphic laminations, and as disseminated grains. Malachite and azurite have also been observed. Carbonaceous material was associated with all mineralized beds.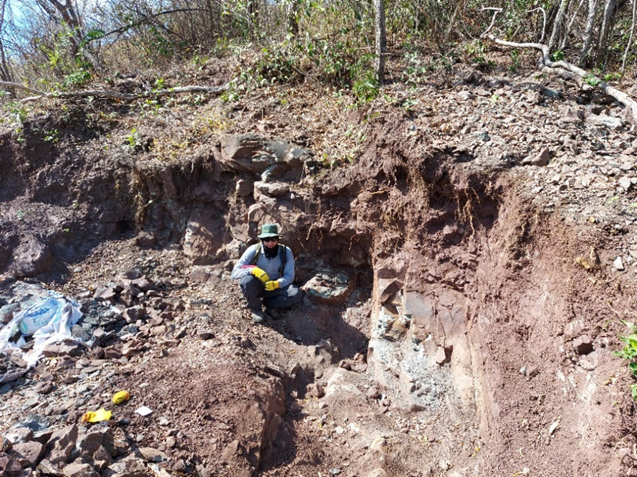 Figure 4. Channel 878701, 1.0m at 4.0% Cu & 31 g/t Ag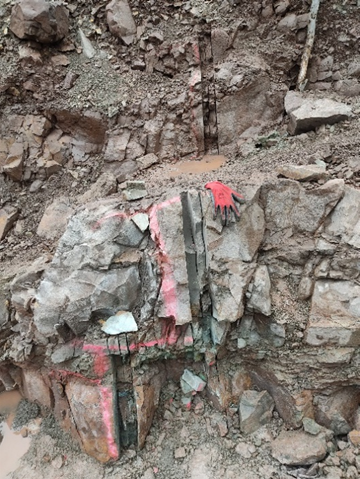 Figure 5. Channel HM153, 3.8m at 1.4% Cu & 12 g/t Ag
Sample #

Copper

(%)

Silver

(g/t)

Interval (m)

Sample #

Copper

(%)

Silver

(g/t)

Interval (m)

419093

18.3

2

1.5

417333

1.8

16

0.3

419083

6.9

13

0.4

419064

1.7

8

0.5

878707

6.0

48

1.0

426628

1.6

17

1.5

876734

5.9

56

1.5

419085

1.6

19

1.0

878693

5.0

36

1.0

HM143

1.6

10

1.0

878704

4.7

37

0.5

878710

1.6

10

1.0

419067

4.6

26

0.5

HM153

1.4

12

3.8

878709

4.1

29

0.6

878522

1.4

11

0.6

878701

4.0

31

1.0

878729

1.2

8

1.5

870038

3.3

22

0.5

878696

1.2

8

1.2

419110

2.7

33

1.2

417343

1.2

10

0.3

HM147

2.7

11

0.5

878728

1.1

7

0.5

878723

2.4

25

1.0

878519

1.1

7

0.4

419109

2.3

26

1.2

878703

1.1

9

0.3

878717

2.2

26

0.7

419106

1.0

6

0.4

419071

2.2

12

0.6

417337

1.0

13

0.3

878720

1.9

9

1.5

417335

1.0

11

0.3
Table 1. Channel sample results from AM-7

CESAR Target Evaluation
Max has identified and is evaluating 21 targets along the CESAR 90-km belt for potential drill testing.
Assessing each target area includes the following field activities:
Systematic chip and channel sampling of the mineralized outcrops.
Detailed geological and structural mapping of each showing.
Trenching where possible to expose additional mineralization.
Target scale prospecting and soil sampling.
Ground geophysical surveys.
Background
Max's CESAR Project lies along the copper-silver rich Cesar Basin in NE Colombia. This region provides access to major infrastructure resulting from oil & gas and mining operations, including Cerrejón, the largest coal mine in South America, held by global miner Glencore. Max's twenty-one mining concessions collectively span over 188-km² (refer to Figure 1).
In 2022, Max executed a 2-year co-operation agreement with Endeavour Silver Corp. (TSX: EDR, NYSE: EXK), which assists to expand its 100% owned landholdings, Endeavour will hold an underlying 0.5% NSR.
AM District
Starting in the far north of the Jurassic basin, classic stacked red bed outcrops with extensive lateral continuity have been rock sampled over many kilometres within the AM District. Highlight values of 34.4% copper and 305 g/t silver have been documented in the sedimentary red bed sequences.
Conejo District
Midway south, the Conejo District demonstrates mineralization at the contact of intermediate and felsic volcanics which outcrops over 3.7-km. The average of surface samples over a 2.0% cut-off come in at 4.9% copper.
URU District
To the far south, the 2022 inaugural drilling was initiated at two mineralized surface exposures, each located 0.75-km apart and lie within the URU District's 20-km-long, 2-km wide mineralized target area. The drill program at URU-C and URU-CE was the first opportunity to test continuity of the structurally controlled copper-silver mineralization within the volcanic host rocks in the sub-basinal environment of the Cesar sedimentary basin.
Quality Assurance
All CESAR rock chip samples are shipped to ALS Lab's sample preparation facility in Medellin, Colombia. Sample pulps sent to Lima, Peru, for analysis. All samples were analyzed using ALS procedure ME-MS41, a four-acid digestion with inductively coupled plasma finished. Over-limit copper and silver are determined by ALS procedure OG-62, a four-acid digestion with an atomic absorption spectroscopy finish. ALS Labs is independent from Max.
Sample pulps sent to Actlabs, Medellin, Colombia, for analysis. The Actlabs Medellin analytical technique was TD-AA, a 4-acid digestion of a 0.25g sampled for copper and silver analyzed on an Atomic Absorption (AA) unit, both with upper limits of 100 ppm for silver and 10,000 ppm for copper. Over limits for copper or silver were analyzed with the 8 4 Acid ICP technique, a four-acid digestion of a 0.4g sample. Actlabs is independent from Max.
Qualified Person
The Company's disclosure of a technical or scientific nature in this news release was reviewed and approved by Tim Henneberry, PGeo (British Columbia), a member of the Max Resource advisory board, who serves as a qualified person under the definition of National Instrument 43-101.
About Max Resource Corp.
Max Resource Corp. (TSXV: MAX) is a mineral exploration company advancing the newly discovered district-scale CESAR copper-silver project. The wholly owned CESAR project sits along the Colombian portion of the world's largest producing copper belt (Andean belt), with world class infrastructure and the presence of global majors (Glencore and Chevron).
In addition, Max controls the RT Gold project (100% earn-in) in Peru, encompassing a bulk tonnage primary gold porphyry zone, and 3-km to the NW, a gold bearing massive sulphide zone. Historic drilling in 2001, returned values ranging 3.1 to 118.1 g/t gold over core lengths ranging from 2.2 to 36.0-metres.
Max is proactive, with the corporate goal of transitioning the CESAR basin towards the mining of copper, the key metal for Colombia's transition to clean energy. The safety of our people and the communities where we operate is most important. We conduct exploration in a manner which supports protection of ecosystems through responsible environmental stewardship.
Source: NI 43:101 Geological Report Rio Tabaconas Gold Project for Golden Alliance Resources Corp. by George Sivertz, Oct.3, 2011
For more information visit: https://www.maxresource.com/
For additional information contact:
Tim McNulty
E: info@maxresource.com
T: (604) 290-8100
Rahim Lakha
E. rahim@bluesailcapital.com
Brett Matich
T: (604) 484 1230
Neither TSX Venture Exchange nor its Regulation Services Provider (as that term is defined in the policies of the TSX Venture Exchange) accepts responsibility for the adequacy or accuracy of this release.
Except for statements of historic fact, this news release contains certain "forward-looking information" within the meaning of applicable securities law. Forward-looking information is frequently characterized by words such as "plan", "expect", "project", "intend", "believe", "anticipate", "estimate" and other similar words, or statements that certain events or conditions "may" or "will" occur. Forward-looking statements are based on the opinions and estimates at the date the statements are made and are subject to a variety of risks and uncertainties and other factors that could cause actual events or results to differ materially from those anticipated in the forward-looking statements including, but not limited to delays or uncertainties with regulatory approvals, including that of the TSXV. There are uncertainties inherent in forward-looking information, including factors beyond the Company's control. There are no assurances that the commercialization plans for Max Resources Corp. described in this news release will come into effect on the terms or time frame described herein. The Company undertakes no obligation to update forward-looking information if circumstances or management's estimates or opinions should change except as required by law. The reader is cautioned not to place undue reliance on forward-looking statements. Additional information identifying risks and uncertainties that could affect financial results is contained in the Company's filings with Canadian securities regulators, which filings are available at www.sedar.com.
Back to Past News